There are many types of customized logos for tool bags, including but not limited to: printing logo, embroidery logo, rubber label logo, woven label logo, embossed logo, compression molded EVA Logo, etc. I will introduce these logo types and features in detail to help you customize your logo on the tool bags.
IRONLAND is a professional tool bag manufacturer and factory, We are your reliable supplier for custom logo tool bags, all our tool bags can be printed with your logo, you can customize your logo and make your company logo on tool bags.
Printed Logo For Tool Bags
Screen Printing Logo
Screen printing logo is to use the photosensitive material to make the screen printing plate by photolithography, making the screen holes of the logo outline part on the screen printing plate the through hole, and blocking the screen holes of the blank part, and then, transfer the ink to the substrate (such as fabric) through the screen holes in the outline of the logo by squeezing when printing, to make the same visuals as Logo pattern on substrate.
The tool bag factory needs to send the cut fabric pieces to the screen printing factory for screen printing processing.
Features Of Screen Printing Logo
1: It is suitable for various types of ink, and the ink layer has strong coverage, the ink layer is thick, the color is bright, and it looks full and three-dimensional.
2: The screen printing layout is soft and elastic, and the layout printing pressure is small.
3: Plate making is convenient, the price is cheap, and the technology is easy to master.
Production Process Of Screen Printing Logo
Step 1: Load
Step 2: Screen Print
Step 1: Unload
Thermal Transfer Printing Logo
The production process of this types of logo is divided into two parts: transfer film printing and transfer processing. The transfer film printing adopts dot printing (resolution 300 dpi), and the pattern is pre-printed on the surface of the film. The printed pattern is rich in layers, bright in color, ever-changing, with no color difference, and the color can be customized, which can achieve the final visuals required by the clients, and is suitable for large mass production. The transfer printing process is to transfer print the Logo pattern on the transfer film to the surface of the fabric by thermal transfer machine.

Features Of Thermal Transfer Printing Logo
1: Fast printing and flexible installation
2: Can be produced in small batches
3: Low price
4: Easy operation and high safety
IRONLAND Have Machine For Making Thermal Transfer Printing Logo
As a professional tool bag factory, we know how to optimize the supply chain to reduce costs, so that our clients can purchase tool bags at low prices. We have our own thermal transfer printing machine to print the logo onto your tool bags, which not only reduces the cost but also greatly speeds up the production. Contact us now to get your tool bags with thermal transfer logo!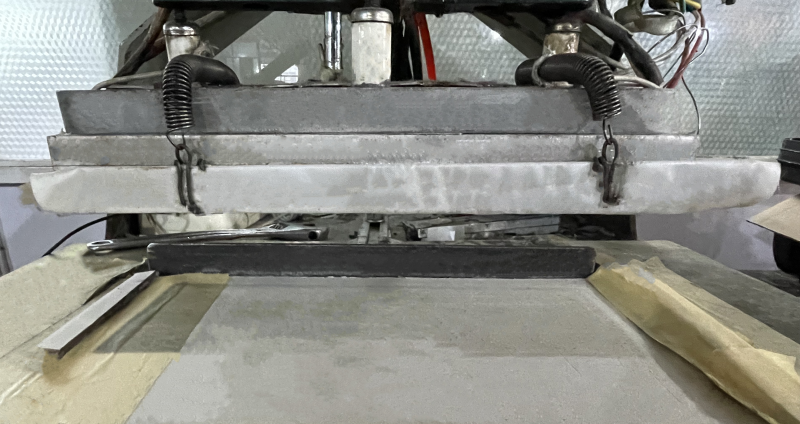 Embroidered Logo For Tool Bags
The embroidery logo is a type of logo arranged in an orderly needle and thread to make the logo on fabric. It is not embroidery in the traditional sense, but a type of logo craftsmanship produced by plate making and design. It is often used to make logos on clothes and bags. This type of logo is one of the most expensive of all logo craftsmanship. Its cost is calculated based on the complexity of the plate making and the number of needles, so the finer the logo, the larger the area and the more needles and threads, the higher the cost.
Features Of Embroidery logo
1: The protruding logo provide nice visual effect, which is very helpful for brand promotion
2: Not easy to fall off and damage
3: The size and fineness of the logo pattern must be taken into account
IRONLAND Have Machine For Making Embroidery logo
Yes, we have machines for making embroidery logos, which allows us to make embroidery logos on tool bags independently, which provides convenience for sampling and mass production.
Rubber Patch Logo For Tool Bags
The material of the rubber patch logo is mainly PVC, and the PVC product is made by mixing PVC powder (polyvinyl chloride), oil and color paste, and then heating and cooling by the micro-injection and dripping process.
Usually, after confirming the logo pattern, we will entrust the logo supplier to make the rubber patch logo, and then these rubber patch logos are sent to our tool bag factory, then we will sew these logos to the tool bags, so this type of logo are very solid and not easy to fall off.
Features Of Rubber Patch Logo
1: The color of rubber patch logo can be customized
2: It has higher mechanical strength and better corrosion resistance.
3: The rubber logo is sewn on the tool bag, which is very firm and not easy to fall off
4: Not easy to fade
5: The rubber block logo is three-dimensional
Production Process Of Rubber Patch Logo
Step 1: Make The Mold
Make corresponding logo artwork according to requirements, use computer to engrave, and make corresponding molds.
Step 2: Toning
Customize the color according to the logo pattern and client's requirements to achieve the required color and hardness.
Step 3: Drop Glue
Fully automatic dispensing, dispensing according to the prepared mold and color scheme, then baking, cooling, and finally getting the finished product.
Step 4: Quality Inspection
Every rubber logo must be free of bubbles, trachoma, no color mixing, overall clean, and no burrs.
Woven Label Logo For Tool Bags
Woven labels are cloth labels containing text, letters or logo patterns. Usually used for clothing and bags. Woven label logos are woven by fixing warp yarns and expressing words, graphics, letters, numbers or logo patterns with weft yarns on woven label machine. This type of logo is usually used for small size tool bags such as tool pouches, zipper tool pouches and work belts due to their small size.
Features Of Woven Label Logo
1: Easy to make
2: Low cost
3: Not easy to change color
4: Small size
Embossed Logo And Imprint Logo For Tool Bags
The process of changing the thickness of the fabric by mold and pressing the undulating patterns or words on the surface of the fabric is called embossing. There are two kinds of embossed logos. The protruding logo is called embossed logo, and the concave logo is called imprint logo.
Features Of Embossed Logo And Imprint Logo
1: Need to make the mold
2: Fast production
3: Cannot customize the color, only the pattern of the logo can be customized
4: Ideal for making on leather tool bags or the leather part of the fabric tool bags
Video Of Making Embossed Logo For Tool Bags
Compression Molded EVA Logo For Tool Bags
Compression Molded EVA logo is made by EVA compression Molded machine. Strictly speaking, EVA molding is not a process specially used for making logos, but it can be used for making logos. The visuals of Compression Molded EVA logo is similar to embossed logo. In the global tool bag market, well-known brands such as Klein Tools have adopted Compression Molded EVA logo on some of their products.
Features Of Compression Molded EVA Logo
1: Many materials are required, including EVA materials, fabrics, etc.
2: The production process is complex, including mold making, molding, EVA and fabric compounding
3: High cost
4: Good quality and high grade
5: Can't customize color
Summary
If you want to wholesale customized logo tool bags, purchase tool bags with customized logos, please contact us, we provide a variety of types of customized logos for tool bags, and provide corresponding professional solutions according to your custom logo requirements, IRONLAND is your trusted supplier of custom logo tool bags.