Hi there, we have a new large equipment – drying equipment(similar to drying cabinet), this equipment is used to dry the tool bags and prevent the tool bags from getting moldy.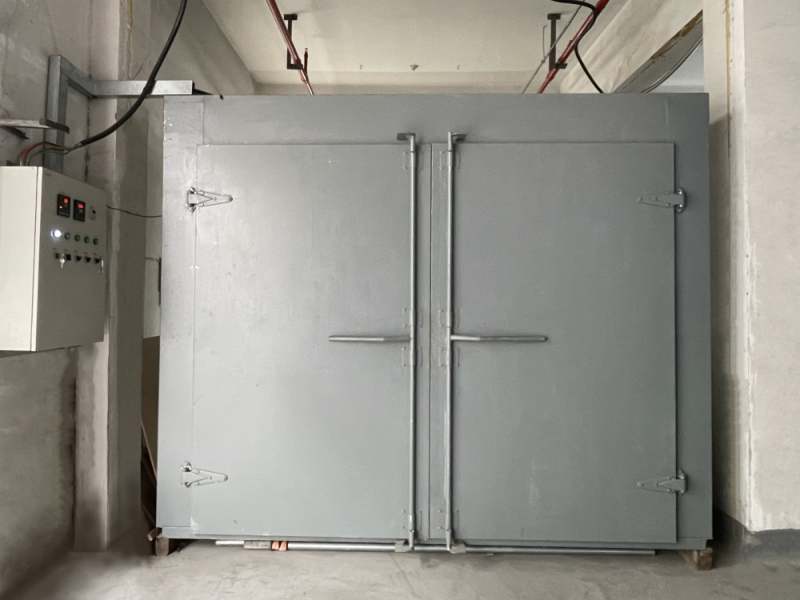 Why Do Tool Bags Get Moldy?
If the tool bags are stored in a humid environment for a long time, they will mold. So the best way to prevent the tool bags from getting moldy is to keep tool bags dry. The picture below will give you an idea of what a moldy tool bag looks like.
Why We Need Drying Equipment?
Reason 1: Dry The Tool Bags Before Packing
We are a professional tool bag manufacturer. After the tool bags production process, our finished product inspection team inspects and cleans the tool bags, they use water, alcohol or detergent to clean the tool bags for different stains. After cleaning, there may be water stains on the surface of the tool bags. If the tool bags are packaged immediately, the water stains will not easily evaporate in the package, and then the tool bags will become moldy.
Therefore, we have to use drying equipment to dry the tool bags before the packing process.
Reason 2: Keep Client's Tool Bags Goods Dry
Sometimes, clients' tool bag goods are forced to be stored in our warehouse for weeks or even months(This is usually due to the forwarder's inability to arrange transportation in time or the client's purchasing schedule has changed), moisture in the air may burrow into packaging and make tool bags prone to mold.
Therefore, we must take the tool bags out of the packaging at regular intervals and put the tool bags in the drying equipment to dry.
Reason 3: Easier To Remove Mildew Spots
Mildew spots on the surface of moldy tool bags are easily removed after being dried by drying equipment.
How Drying Equipment Works To Dry Tool Bags?
Other Ways To Prevent The Tool Bags From Getting Moldy
Desiccant-Silica Gel
Put silica gel in the package of every tool bags, Silica gel can absorb moisture to keep the tool bags dry and effectively prevent the tool bags from getting moldy.
Vacuum Packaging
Although the use of vacuum packaging is a very common way to prevent mold or spoilage of many products(especially food), only small or simple tool bags are suitable for vacuum packaging